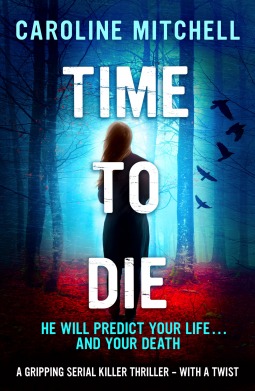 Book Description : Don't ever cross his palm with silver.
~He will reveal your most shameful secrets.
He will predict your death.
He is hiding a secret.
He is hiding a monster.
And all his predictions come true.
Investigating a series of chilling murders, Detective Jennifer Knight finds herself tracking a mysterious tarot card reader known only as The Raven.
As the death toll rises, Jennifer and her team build a picture of a serial killer on the edge of sanity, driven by dark forces. But these are not random killings. And the method behind the madness could be the most terrifying thing of all …
Especially when it seems the death of one of their own is on the cards.
Author : Caroline Mitchell
Publication Date : September 24th 2015
* I'd like to say a huge thank you to Bookouture and Netgalley for providing this ARC in exchange for an honest review*
My thoughts : After reading Caroline's first book Don't Turn Around and giving it 5 stars I was so excited for the next book and I wasn't disappointed in the slightest.
We head back to Haven with DC Jennifer Knight and her side kick Will, where they are working amongst a team called operation moonlight. A police team that investigates crime with paranormal elements.
I love the chemistry between Jennifer and Will, they work so well together and their friendship warms the heart. Jennifer with her psychic abilities is a very interesting character, both her and Will are very likeable.
The Raven on the other hand sent chills down my spine but I was intrigued by him. He's a character that you love to hate and is evil to the core but I just couldn't get enough of him. I've always been interested in Tarot cards and Bert (The Raven) had the ability to see the past and also the deathly future with his. He's an incredibly scary character I certainly wouldn't want a reading from.
I just loved this book, it has a great mix of paranormal and crime and Caroline has done a truly fantastic job writing this book, it had me on the edge of my seat. It's one of those stories where you can't sit still while reading it, you feel like you have to move about a bit or you'll be absorbed right into the story for real. Totally engrossing and I really had to make myself slow down while reading it as I just didn't want it to end.
Although this is book number 2 it could be read as a stand alone but I definitely recommend reading Don't Turn Around first. Both absolutely fab books and I can't wait for number 3.
An amazingly chilling, thrilling edge of your seat story that you wont want to read when you're all on your lonesome.


A fabulous 5 stars from me xx